Policy Manager - Chain of Custody & Controlled Wood (m/f/d) - Performance and Standards Unit
FSC Global Development GmbH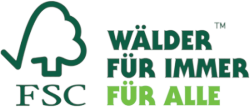 Policy Manager - Chain of Custody & Controlled Wood (m/f/d)
- Performance and Standards Unit -
The Mission:
FSC works to take care of our forests and those who rely on them: by protecting plant and animal species, Indigenous Peoples' rights, forest workers' safety, and much more. We achieve this through FSC certification, ensuring forests around the world are responsibly managed. For more information on FSC, visit our website at www.ic.fsc.org.
To effectively meet the challenge of protecting the world's forests, we are committed to ensuring we have the world's most skilled people working with us. This commitment extends to everyone that works in FSC around the world: from those that lead the design of policies and standards, to those that roll out those same policies and standards on the ground, and to those that provide us with backbone to do our work.
We are looking for an engaged Policy Manager (Chain of Custody and Controlled Wood) who brings solid expertise and a passion for FSC's mission, to work with us in a multinational environment.
The Scope:
To manage the development, maintenance and consistent implementation of normative FSC documents, mainly in the area of Chain of Custody and Controlled Wood.
Main Roles and Responsibilities:
To manage the development, review and revision of normative FSC documents, including, for example:

Editorial reviewing and drafting of normative documents.
Researching of technical issues to be covered by normative documents.
Providing interpretations of relevant normative documents in response to corresponding requests.
Coordinating and facilitating working groups and other technical meetings.
Preparation, coordination and monitoring of pilot tests.

Ensure alignment of relevant requirements with other programme areas and relevant operational units within FSC International.
Manage communication and education, including, for example:

Developing communications, guidance and training materials related to normative documents.
Providing advice and training to Certification Bodies, Network Partners and others throughout the FSC Network to ensure the consistent implementation of normative documents.
Managing website content and related communications.

Manage project development and administration:

Conceptualizing projects and feasibility studies.
Providing support in fundraising and reporting to donors.

Ensure administration and handling of information and interpretation requests related to normative documents.
Represent FSC externally on technical and other fora.
Build and maintain effective contacts and good relations with stakeholders affected by relevant normative documents.
Propose, monitor and adhere to the planned budget for managed process(es).
Provide support to junior colleagues regarding the managed contents and the functioning of the team.
Participate in the applicable FSC internal competence programs.
Additional tasks as assigned by the formal supervisor and project work as assigned according to special organizational needs.
Qualification, Experience and Skills:
Education and training:

University or technical college degree in a relevant field (e.g. forestry, wood technology) or equivalent.
Training in FSC Certification, Project Management, Communications, and/or Auditing are assets.

Working Experience, Style and Skills:

At least 5 years of professional experience in one or more of the following: multi-stakeholder standards development processes; the forest sector; certification or corporate environmental and social responsibility programs, environmental impact assessments.
Strong analytical and problem-solving skills.
Proven ability to plan and organize work (e.g. by relevant project management experience).
Experience in writing, reviewing, revising, and/or editing technical documents.
Pro-active approach towards solving problems as they occur.
Good time management skills: Ability to perform well while handling simultaneously several ongoing project tasks.
Solution and service-oriented attitude to work.
A strong sense for diligence and accuracy.

Languages:

Fluency in English (spoken and written).
Spanish and French are desired.

Computer skills - good skills in the use of/experience with:

Standard software packages (MS Office).
Content Management Systems is a plus.

Communication Skills:

Exemplary verbal and written communication skills, including the ability to explain complex topics to non-knowledgeable audience.
Ability to constructively exchange on contentious topics
Ability to facilitate interactive discussions.
Ability to establish and maintain positive interpersonal relations.
Terms and Conditions:
Location: Bonn, Germany.
Working Hours: Full time - 40 hours per week.
Duration of Employment: Temporary contract - 2 years (extension possible).
Starting Date: As soon as possible.
How to Apply:
Please apply via our website by submitting your CV in English.
Please do not send any photos of yourself.
The deadline for applications is 26 March 2023.
We will confirm receipt of your application. However, only candidates shortlisted for an interview will be further contacted and will receive notice of the outcome of the selection process. Should you not receive a confirmation of receipt please check your spam filter and if you cannot find it there contact us at
For FSC, inclusiveness and diversity are important values. As such, we welcome and encourage applications from all backgrounds and are entirely committed to consider all qualified applicants regardless of race, gender, sexual orientation, religion, ethnicity, age and disability.
Please be informed, that by applying for this position you automatically accept our Data Protection Information on processing your personal data.
We are looking forward to your application!
Bewerbungsschluss:

26.03.2023
Anbieter:

FSC Global Development GmbH
Adenauerallee134
53113 Bonn
Deutschland
WWW:
Telefon:

+49 (0) 228 367 66 0
(Ursprünglich) veröffentlicht am:

08.03.2023