Student Assistant (gn) SEWOH Lab
TMG Research gGmbH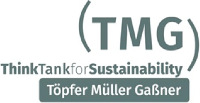 Intro
APPLICANTS MUST BE CURRENTLY ENROLLED AT A UNIVERSITY; MUST BE BASED IN BERLIN AND MUST SPEAK ENGLISH

About TMG Research
As a Berlin-based research organisation with a team in Nairobi, Kenya and research sites in Benin, Malawi, Madagascar and South Africa, TMG works on responsible governance and sustainability issues in the areas of sustainable management and responsible governance of land and oceans, food systems, and climate. As an organisation, TMG brings sound knowledge and practical experience in facilitating national, European, and international processes and is dedicated to the analysis and solution of new and complex challenges. TMG's research projects are developed, conducted and evaluated jointly with actors from science, politics, the private sector and civil society.
We are looking for a new colleague to join our SEWOH Lab team in Berlin and support the nature-based solutions (NbS) workstream with a focus on water management in India as well as general activities related to digitalization in agriculture and food systems.
Aufgaben
Support the research team's work on participatory water management and digitalization in smallholder farming contexts
Support the Programme Lead by providing desk research support, developing reference lists and drafting texts
Support the Programme Lead by updating time plans, calendars and project management tracking tools
Support the research team in day-to-day activities such as event planning, publication of reports or analysis of research findings
Anforderungen
Currently enrolled in studies in social and political science, natural resources management, environmental studies, agricultural economy/science, development and international studies, geography or a related field
Interest in research in the field of nature-based solutions (NbS) and digitalization
Experience in literature research
Sound knowledge of Microsoft Office
Enthusiasm, flexibility, strong team-spirit and a commitment to working within a dynamic, transdisciplinary organisation
Excellent oral and written communication skills in English
Benefits
Work in a transdisciplinary think tank with a truly international work programme and the aspiration to enable sustainability transformations
Flexible working hours and mobile working
Hourly rate based on TV Stud III (12.96 €/h) and holiday entitlement in accordance with the Federal Holiday Act (BUrlG)
Opportunities for professional development
Regular social events
The position is to be filled as soon as possible until 31.12.2024. Duty station is Berlin.
Bewerbungsprozess
Please submit your full application including a cover letter and CV in one PDF document (max. 5 MB) by the application deadline. Please upload your application online via the application button.

For details on the position or project, please contact Larissa Stiem-Bhatia (larissa.stiem-bhatia@tmg-thinktank.com). For details on the application process, please contact Vanessa Venne (hr@tmg-thinktank.com).
TMG is an employer that promotes equal rights and equal opportunities and provides a respectful work environment free from discrimination and intimidation. We treat all applicants equally, regardless of ethnic and social origin, nationality, religion/belief, age, migration background, disability, sexual orientation and identity. Women, people with disabilities and people with a migration background are particularly encouraged to apply.
We are looking forward to hearing from you!
Bewerbungsschluss:

13.06.2023
Anbieter:

TMG Research gGmbH
10829 Berlin
Deutschland
Ansprechpartner/in:

Vanessa Venne
Telefon:

0309210740745
E-Mail:
Online-Bewerbung:
(Ursprünglich) veröffentlicht am:

16.05.2023