Research Associate (gn) - Impact Assessment
TMG - Töpfer, Müller, Gaßner GmbH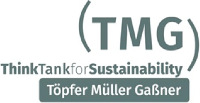 Intro
In order to support our project team in Berlin in the transition to sustainable food systems, we are currently looking for a
Research Associate (gn) – Impact Assessment & True Cost Accounting of Diets
About TMG GmbH
TMG - Töpfer, Müller, Gaßner GmbH provides strategic advice and implements concrete solutions for sustainability to governments, private firms, and international organisations. It brings sound knowledge and practical experience in facilitating national, European, and international processes and is dedicated to the analysis and solution of new and complex challenges.
About the project
PLAN'EAT is a Horizon Europe project that seeks the development of innovative, effective tools and strategies to facilitate the transition towards healthy and sustainable dietary behaviour in Europe. In a consortium of 24 European partners, TMG leads the work on True Cost Accounting (TCA) to analyse the environmental, health and social impacts of European diets and their associated hidden costs. TCA uses environmental and social life cycle assessments (LCA) and economic valuation to enable more holistic decision making. As part of the project, TMG will conduct three TCA case studies of different European dietary patterns. Based on the findings, recommendations for the transition to sustainable, healthy and fair diets will be developed.
Aufgaben
Perform the research tasks of the PLAN'EAT project with a focus on secondary data collection and analysis as well as literature reviews and desk research
Lead the implementation of TCA case studies on three different dietary patterns in the project's Living Labs
Write scientific and non-scientific publications and other forms of outreach
Provide technical and strategic guidance to further develop the TCA method
Support in strategically positioning the project in the relevant national and international (policy) debates
Anforderungen
Master's degree in agricultural economics, environmental science, engineering or a related field
Experience in scientific desk and applied research as well as in writing and science communication
Relevant professional experience and applied skills in performing life cycle assessments (LCA), experience with the use of LCA software and applying LCA to food supply chain and diets is a plus
Ability to work with datasets, knowledge of statistics is a plus
Basic knowledge of sustainable diets and food systems incl. the environmental, social and health impacts of food production and consumption
Knowledge of R, SQL or similar statistical and data management tools is a plus
Familiarity with standards and frameworks such as ISO14040/44, PEFCR, GHG Protocol, SBTi is a plus
Excellent management and organisational skills
Excellent English language skills, good knowledge of German is an asset
Benefits
Meaningful exchanges and interaction with renowned research organisations as well as national and international organisations in the field of sustainable development
A dynamic, diverse and international working environment
Flexible working hours and mobile working
Salary in accordance with TVöD (Bund) E13, including annual bonus payment acc. to TVöD (Bund)
Annual leave in accordance with TVöD
Opportunities for professional development
Regular social team events
The position is to be filled as soon as possible and initially limited to October 2024, with the prospect of contract extension pending further funding. Preferred duty station is Berlin.
Bewerbungsprozess
Please submit your full application including a cover letter, CV and two references (contact persons) and/or reference letters and links to selected publications (if available) in one PDF document (max. 5 MB). Please upload your application online via the application button.
For more information about the PLAN'EAT project, please visit https://planeat-project.eu/. For details on the position, programme lead Olivia Riemer (olivia.riemer@tmg-thinktank.com) will be happy to answer your questions. For details on the application process, please contact Vanessa Venne (hr@tmg-thinktank.com).
TMG is an employer that promotes equal rights and equal opportunities and provides a respectful work environment free from discrimination and intimidation. We treat all applicants equally, regardless of ethnic and social origin, nationality, religion/belief, age, migration background, disability, sexual orientation and identity. People with disabilities and people with a migration background are particularly encouraged to apply.
We are looking forward to hearing from you!
Bewerbungsschluss:

10.12.2023
Anbieter:

TMG - Töpfer, Müller, Gaßner GmbH
10829 Berlin I Remote möglich
Deutschland
Ansprechpartner/in:

Vanessa Venne (HR/Office Managerin)
Telefon:

0309 210 740 745
E-Mail:
Online-Bewerbung:
(Ursprünglich) veröffentlicht am:

21.11.2023