Internship for marketing and communication (Master's degree level) R-IN1901
NewClimate Institute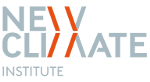 Beschreibung:

The internship:
NewClimate Institute is a small, independent think-tank in the field of climate policy. To support our outreach activities, we are seeking a candidate to join us for an internship of 3 months duration. The focus of the position lies on supporting our digital channels, mainly including our websites and our social media accounts. Contributing to our other outreach activities and supporting internal communication processes will be another vital part of the work. This will allow the candidate to gain in-depth and comprehensive insight into the communication activities of NewClimate Institute.
Possible tasks may include, for example:

Updating our websites with new posts and website improvements through CMS (WordPress, Wagtail) and html-coding
Supporting our Social Media activities, including researching current news/trends and relevant accounts, publishing posts on Twitter, Facebook and LinkedIn, monitoring and replying to reactions
Working on our products, including layouting reports and presentations, but also further developing the respective templates in Microsoft Office
Supporting the conceptualisation and implementation of graphical outputs to communicate our research results
Supporting our media outreach, public relation management, and other outreach activities
Administrative tasks like internal coordination, updating the communications agenda and editorial plan, research tasks, contact database management etc.
Supporting further development of NewClimate communications structures & processes


The internship will be remunerated. An internship duration of more than 3 months or writing a thesis during the internship can be granted in exceptional cases. Actual conditions depend on qualification of the candidate.
Anforderungen:

Candidate profile:
The preferred candidate is a highly motivated Master's degree student with a high degree of responsibility, an independent working style and a deep interest in the field of communications. Experience in the broader field of sustainability and development is preferred.
Essential requirements:

Current enrolment in a Master's degree (or equivalent) in a field of study with a focus on communication (e.g. marketing, communication studies, PR, graphic design, online marketing etc.)
Applied knowledge of website CMS (WordPress, Wagtail etc.) and Social Media services (Twitter, Facebook, LinkedIn), potentially including Social Media management tools (Crowdfire, Tweetdeck etc.)
Applied knowledge of Microsoft Office Suite (Word, Excel, PowerPoint)
Applied knowledge of graphical design software (e.g. Adobe Photoshop and Adobe Illustrator) desired
Good aesthetic sense: You have an eye for design and layouts, and can contribute your own creative ideas
Enthusiasm for all aspects of communications – from developing a comprehensive outreach strategy, to meticulously implementing it through all channels
Interest in global climate policy, and in working in a scientific institution; knowledge / experience in both fields of advantage
Languages: Fluent English (spoken and in writing) essential, advanced German and/or other languages of advantage
Eligibility for internships in Germany (EU Citizen or non-EU citizen studying in Germany).


Application procedure:
If you are interested in an internship as described above, please send us your CV including a short cover letter to recruitment@newclimate.org. Please include the code "R-IN1901" in the subject line of your email.
Bewerbungsschluss:

30.06.2019
Einsatzort:

10119 Berlin
Deutschland
Anbieter:

NewClimate Institute
Clever Straße 13-15
50668 Köln
Deutschland
Ansprechpartner/in:

Eva Arnold
E-Mail:
Sonstiges:

R-AD1901
(Ursprünglich) veröffentlicht am:

03.06.2019