Forestry Coordinator For Poland (m/f/d) - Global Alignment And Integrity Unit – European Programme
FSC Global Development GmbH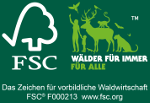 Beschreibung:

The Role:
You will be working on behalf of FSC to promote responsible forest management in Poland under a formal service agreement. You will be responsible for all forest related issues and will act as a link between the Polish Forestry Stakeholders and FSC International.

Main Responsibilities:

Support the implementation of the most recently approved FSC Polish Forest Management (FM) standard.
Coordinate the work of the Standard Development Group to revise and update the FSC standard for Poland.
Support the implementation of the FSC Controlled Wood System as well as its ongoing development (e.g. risk assessment updates).
Coordinate the implementation of the FSC Pesticides Policy to national context.
Engage with a wide range of relevant stakeholders, especially forest owners and managers with the ultimate aim of growing and enhancing FSC FM certification in Poland.
Support and respond to questions from Polish stakeholders on FSC policies and standards (national and international).
Identify future opportunities and challenges for FSC in the country around forestry issues and inform relevant FSC staff (nationally and internationally).
Assess impact of FSC in forests in Poland and communicate this to target audiences.
Anforderungen:

Qualification, Experience and Skills:

University degree in forestry or an equivalent combination of education/vocational training and work experience relevant for the roles and responsibilities of this function.
At least 3 years of relevant professional experience.
Sound understanding of the scope of FSC's programmes and activities, policies and standards.
A practical understanding of forest management in Poland.
Understanding of commercial forest product value chain needs and market forces.
Good time management skills: ability to perform well while handling simultaneously several functions.
Service-oriented attitude to work, as well as a strong sense for diligence and accuracy.
Fluency in English and Polish (spoken and written).
Good skills in the use of standard software packages (MS Office).
Strong analytical and problem-solving skills.
Experience in working in a multi-cultural, multi-lingual, global team.
Proven ability to communicate and engage with a diverse range of people.
Commitment to FSC's values and mission.
Ability to represent FSC through his/her work with exemplary personal and professional authority and conduct.
Bewerbungsschluss:

03.11.2019
Anbieter:

FSC Global Development GmbH
Adenauerallee 134
53113 Bonn
Deutschland
WWW:
Ansprechpartner/in:

Agnes Szabo
Telefon:

0228 / 367.66.949
E-Mail:
(Ursprünglich) veröffentlicht am:

24.09.2019