Policy Analyst – Climate Action Tracker (R-1902) (d/f/m)
NewClimate Institute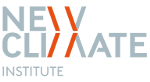 Beschreibung:

Period: Starting as soon as available. Full time – 40 hours per week
Location: Cologne or Berlin
Application deadline: 31 October 2019

NewClimate Institute
NewClimate Institute supports research and implementation of action against climate change around the globe. We are a dynamic team of researchers and policy advisors with long experience in supporting the international climate negotiations and associated national and international processes. Through our policy-oriented research and capacity building we help international organisations, national governments, NGOs and other actors to find and implement solutions to the global climate change challenge.

The position
We seek an experienced climate policy analyst to strengthen our Climate Action Tracker team. The Climate Action Tracker (CAT) is an independent scientific analysis that tracks government climate action and measures it against the globally agreed Paris Agreement aim of "holding warming well below 2°C, and pursuing efforts to limit warming to 1.5°C." NewClimate Institute is one of the leading organisations behind CAT which has been providing this independent analysis to policy makers since 2009.
The position focuses on co-coordinating the Climate Action Tracker project. It involves a combination of content work and project management tasks in close cooperation with the existing project team. This includes, amongst other responsibilities:

Project management within NewClimate Institute
Coordination of content and processes with project partners and funders
Conducting and supervising qualitative and quantitative assessment of climate policies
Leading and contributing to Climate Action Tracker outputs and presenting them at events such as the international climate change conferences (UNFCCC COPs)
Occasional travel within Germany and abroad
Anforderungen:

Candidate profile
You should be highly motivated with a strong interest and expertise in the field of international climate change policy.
We are looking for somebody who is:

Motivated to work in a young, evolving institute and be part of a multi-disciplinary team
Keen to work in an international environment with partners from around the globe
Self-sufficient, independent and eager to learn
Thorough, solution seeking and scientific in their way of working


Requirements are:

Minimum of three years of experience in the area of climate change mitigation, ideally with link to international climate negotiations
Experience in managing medium size projects and project teams
Experience in working at the international level with a diverse range of stakeholders
Understanding of the climate policy landscape, both at the country as well as in international policy level
Experience in quantitative assessment of the emission reduction impact of climate change mitigation policies.
Excellent report writing, communication and presentation skills
Knowledge on mitigation options in different sectors (e.g. energy systems, industry, forestry, agriculture) is an advantage
Full proficiency in English (spoken and written) is required. Other languages, in particular German, are an advantage
Advanced knowledge of Microsoft Office applications (Word, Excel, Outlook etc.)


Application procedure
If you are interested and fit the described profile, we look forward to receiving your CV along with a short cover letter and your salary expectations to recruitment@newclimate.org addressed to Eva Arnold.
Bewerbungsschluss:

31.10.2019
Einsatzort:

Cologne or Berlin
Deutschland
Anbieter:

NewClimate Institute
Clever Straße 13-15
50668 Köln
Deutschland
Ansprechpartner/in:

Eva Arnold
E-Mail:
Sonstiges:

R-1902
(Ursprünglich) veröffentlicht am:

07.10.2019