Project Coordinator (f/m/x) SEWOH LAB
TMG Research gGmbH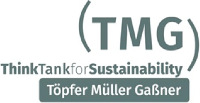 Beschreibung:

TMG Research gGmbH empowers sustainability transformations by building bridges between different knowledge holders and connecting various communities of practice. Together with stakeholders from science, civil society, politics, and the private sector, we examine, initiate and develop innovative strategies for the implementation of international sustainable development agendas. Our work focuses mainly on climate change and adaptation strategies, natural resource management and transformation pathways towards sustainable agriculture.

TMG Research gGmbH is currently looking for a Project Coordinator (f/m/x) to lead the SEWOH Lab, a novel applied research project. This project is part of the SEWOH initiative (Sonderinitiative "Eine Welt Ohne Hunger"), financed by the German Federal Ministry for Economic Cooperation and Development (BMZ).

The SEWOH Lab is designed to strengthen the SEWOH initiative by harnessing the growing knowledge related to digitalisation. It seeks to combine technological innovations with organisational and social innovations in order to make them accessible to vulnerable and food insecure populations. The project also serves as a platform to develop transformation paths in order to achieve the United Nations Sustainable Development Goal 2 (Zero Hunger) and strive towards sustainable and nutritious food systems.

The Position
TMG Research gGmbH is currently looking for an experienced Project Coordinator (f/m/d) to lead the implementation of the SEWOH Lab project. Under the supervision of the Head of Programmes, the candidate would

Design and implement the work programme of the project in a collaborative way with the team
Supervise and coordinate a team of three researchers and liaise with project partners in sub-Saharan Africa and Europe
Administer the Monitoring & Evaluation of the project as well as the dissemination of its results
Be in charge of donor reporting and oversight of the project's budgets in close collaboration with the administration team
Strategically position the project in the relevant policy debates through various types of publications and events
Become member of TMG Research's Management Team and ensure cross-fertilisation between the organisation's different projects
Anforderungen:

What we offer

Working in an applied research organisation with a truly international work programme and the aspiration to enable sustainability transformations
The opportunity to shape the development of activities aiming to make digitalisation work for marginalised and vulnerable populations
A dynamic, diverse and family-friendly working environment
A position that is remunerated in accordance with the TVöD E14/15, depending on the candidate's qualifications

Requirements

At least five years of relevant work experience with proven supervisory responsibilities and experience in working within an international environment
Ability to work effectively and sensitively with a wide range of partners from science, politics, civil society, and the private sector
Proven excellent organisational and management skills
In-depth knowledge on issues of socially-inclusive rural development, digitalisation and transdisciplinary research
Experience in managing grant resources according to German law is an asset
Excellent oral and written communication skills in English and good working knowledge of German necessary (French language skills are an asset)
At least a master's degree in international development, economics, politics, or a related field.

This position is to be filled as soon as possible and will have a duration of three years, with possibility of extension.

Apply
TMG Research gGmbH is an equal opportunity employer and is committed to assessing applicants equitably, regardless of race, religion, colour, sex, age, national origin or ancestry, refugee background, genetic information, disability, marital status, parental status, pregnancy, sexual orientation, HIV status, gender identity, or gender expression. People of colour, women, people with disabilities, people from LGBTQIA+ communities, elderly people, refugees and people living with HIV are strongly encouraged to apply.

Applications including a cover letter, CV with two referees and references, and links to selected publications (non-academic publications are equally welcome) should be submitted in one PDF document (max. 5 MB) until 24 January 2020. Please upload your application online via the application button and refer in your application to the website where the job ad was published.

The interviews are scheduled to take place between 10 - 11 February 2020. For information on the project, please contact Bruno St-Jacques via email (bruno.st-jacques@tmg-thinktank.com). For details on the application process, please contact Ms. Anna Günther via email (anna.guenther@tmg-thinktank.com) or phone (+49 (30) 92 10 74 07 – 45).
Bewerbungsschluss:

24.01.2020
Anbieter:

TMG Research gGmbH
EUREF Campus Haus 7-8
10829 Berlin
Deutschland
Ansprechpartner/in:

Anna Günther
Telefon:

0309210740745
Online-Bewerbung:
(Ursprünglich) veröffentlicht am:

19.12.2019