Research Internship SEWOH Lab (SDG 2)
TMG Research gGmbH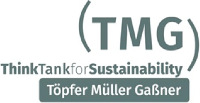 Beschreibung:

TMG Research gGmbH is currently looking for an Intern (f/m/d) to support the SEWOH Lab, a novel applied research project. This project is part of the SEWOH initiative (Sonderinitiative "Eine Welt Ohne Hunger"), financed by the German Federal Ministry for Economic Cooperation and Development (BMZ). The SEWOH Lab is designed to strengthen the SEWOH initiative by harnessing the growing knowledge related to digitalisation.

It seeks to combine technological innovat ions with organisational and social innovations in order to make them accessible to vulnerable and food insecure populations. The project also serves as a platform to develop transformation paths in order to achieve the United Nations Sustainable Development Goal 2 (Zero Hunger) and strive towards sustainable and nutritious food systems.

The Position:

TMG Research gGmbH is currently looking for a full-time Intern (f/m/d) to support the soil organic carbon work stream of the SEWOH Lab project. The candidate would:



Conduct research on soil organic carbon (carbon sequestration in agriculture, carbon accounting methodologies, carbon trading mechanisms) and digitalisation in agriculture
Assist in the organisation of events and workshops
Support outreach activities (social media, website, blogs, etc.)

What we offer:



Working in an applied research organisation with a truly international work programme and the aspiration to enable sustainability transformations
The opportunity to contribute to the development of activities aiming to make digitalisation work for marginalised and vulnerable populations
Flexible working hours
Anforderungen:

Requirements:



Master's degree or post-graduate student in Political Sciences, Tropical Agriculture, Natural Resource Management, Development Studies, International Governance or related field in sustainable science
Knowledge of sustainable development, environmental governance, carbon trading, or related fields
Knowledge of digitalisation and innovations in agriculture
Experience with literature research
Very good English language skills (written and verbal)
German or French language skills will be an asset
Advanced bachelor student or master student (must be enrolled as a student)

This position is to be filled as soon as possible and will have a duration of six months, with a working week of 39 hours. It will be remunerated according to the most recent minimum wage legislation.

TMG Research gGmbH is an equal opportunity employer and is committed to assessing applicants equitably, regardless of race, religion, colour, sex, age, national origin or ancestry, refugee background, genetic information, disability, marital status, parental status, pregnancy, sexual orientation, HIV status, gender identity, or gender expression. People of colour, women, people with disabilities, people from LGBTQIA+ communities, elderly people, refugees and people living with HIV are strongly encouraged to apply.

Applications including a cover letter and CV should be submitted in one PDF document (max. 5 MB) as soon as possible, keeping in mind that we will conduct a first round of interviews on 7-8 April 2020. Please upload your application online via the application button and refer in your application to the website where the job ad was published.

For information on the project, please contact Bruno St-Jacques via email (bruno.st-jacques@tmg-thinktank.com). For details on the application process, please contact Ms. Anna Günther via email (anna.guenther@tmg-thinktank.com) or phone (+49 (30) 92 10 74 07 – 45).
Bewerbungsschluss:

07.04.2020
Anbieter:

TMG Research gGmbH
Euref-Campus, 6-9
10829 Berlin
Deutschland
Ansprechpartner/in:

Anna Günther
E-Mail:
Online-Bewerbung:
(Ursprünglich) veröffentlicht am:

19.03.2020