Experienced Climate Policy Analyst (R-2210) (d/f/m)
NewClimate Institute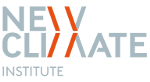 Beschreibung:

Start date: As soon as possible. Full time – 40 hours per week (part time possible)
Location: Cologne (preferred) or Berlin
Application deadline: Position will be closed when suitable candidate is found.


NewClimate Institute
NewClimate Institute supports climate action research and implementation around the world, focused on climate change mitigation. We are a dynamic and diverse team of researchers and policy advisors with extensive experience in supporting international climate negotiations and associated national and international decision-making processes. Through our policy-oriented research and capacity building we help national governments, international organisations, NGOs and other actors to develop and implement solutions to the global climate change challenge. NewClimate Institute's key motivating values are to maximise impact, in a creative and fun working environment with a positive team spirit built on openness, trust, and inclusiveness.

The position
NewClimate Institute seeks an experienced policy analyst to strengthen the team in the area of climate & development, international climate finance and diplomacy. Your work here would focus on advancing climate policy development and implementation - in particular in developing countries - in the context of implementing the Paris goals. The position includes, amongst other responsibilities, project management, organisation and delivery of capacity building activities and project missions, qualitative and quantitative analysis of climate policies and governance, leading and contributing to climate policy research reports, amongst other responsibilities.


NewClimate will support securing a visa and work permit, where relevant. The position comes with an attractive package of salary and additional benefits such as, for example, support for a private pension scheme, 30 days paid holidays, and a working space in our centrally-located, modern offices. The German benefits scheme includes health insurance and other elements of social security.


Candidate profile
You should be highly motivated with a strong interest and expertise in the field of climate change policy, sustainable development and sector transformation.
We are looking for somebody who is:

Motivated to work for a progressive, evolving, non-profit organisation in a dynamic, impact-oriented atmosphere
Interested to be part of a multi-disciplinary, international team
Able to analyse complex problems, developing and using advanced methods, and to communicate findings to a range of different audiences
Flexible and interested to travel in Germany and internationally

Key expertise we are interested in include:

5 (+) years of professional experience related to the intersection of climate and development (mitigation focus)
Master level university degree or equivalent in a relevant field (e.g. environmental sciences, political sciences, economics, physics, engineering)
Experience in managing medium size projects and project teams
Experience in working independently at the international level with a diverse range of stakeholders
Understanding of the climate policy landscape, both at the country as well as the international policy level
Knowledge of energy systems and/ or other mitigation relevant sectors
Excellent report writing, communication and presentation skills; ability to express ideas succinctly both verbally and in writing
Full proficiency in English; German or other languages a plus
Advanced knowledge of Microsoft Office applications (Word, Excel, Powerpoint, Outlook etc.).

Application procedure
If you are interested, we look forward to receiving your CV along with a short cover letter and university transcripts, to recruitment@newclimate.org. Please include the reference number "R-2210" in the email subject and make sure to send all relevant information and files in a single pdf-document with a maximum size of 10 MB.
Einsatzort:

Cologne or Berlin
Deutschland
Anbieter:

NewClimate Institute
Waidmarkt
50676 Köln
Deutschland
Ansprechpartner/in:

Lena Gentes
E-Mail:
Sonstiges:

R-2210
(Ursprünglich) veröffentlicht am:

27.06.2022