Digital Services Developer
Soil & More Impacts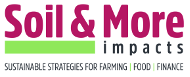 Beschreibung:

The employer

Soil & More Impacts BV (SMI) is a hands-on advisory firm that develops and implements sustainable strategies for Food, Farming & Finance clients globally. Our ambition is to transform food production into a more regenerative system. We are convinced that the future of strategical agriculture consulting lies in the combination of on-site acting and the ability to process and analyse large amounts of data. We work from two offices: one in Amsterdam (The Netherlands) and one in Hamburg (Germany) but travel around the world. For more information see: www.soilandmore.com

Job description

You will work in a small and dynamic team and support the lead in the development of the pillar Business Intelligence & Apps (BI&A). Activities in this pillar have already been successfully piloted in recent years and will be scaled-up in future. BI&A is expected to contribute considerably to SMI's overall impact. Primarily, you will help clients that want to implement our digital services or need assistance for already existing solutions. Secondarily, you will be responsible for maintaining and updating SMI's IT infrastructure and for enabling the SMI consultants to operate with new data solutions. Part of your job will also be to contribute to the strategic development of our BI&A tools. Besides your "techy" knowledge it is a great plus if you have an understanding of the complexity of (global) food production systems.

Key activities include:

Creating digital solutions based on data collection forms and webservices, processing information in a database and designing visually attractive data dashboards
Constructively interacting with clients as customer support, our SMI consultants and with our external IT specialists
Co-developing ideas to make agricultural processes more sustainable via digital business services


This role is a unique opportunity to further build your expertise in digital strategies and test it directly with clients. Your own ideas to shape and improve the processes are very welcome.
The location of your activities will be in Hamburg. Client interaction will be with clients all around the globe. You will be working independently, and directly reporting to the lead of BI&A.

Required skills/experience

Motivated professional with very strong technical and systemic understanding, educated in Informatica, Computer science or other related fields
At least 3 years of practical experience in similar positions
"Quick thinker" in picking up how to use digital tools and implement digital processes
Proficiency in ETL processes with database queries/XML/XAML, database structures, Swagger (documentation of web services) is beneficial
Profound proficiency in excel (i.a. Power Query/Pivot) and building reports (with e.g. Power BI)
Strongly service orientated, patient and constructive in client interaction
Affinity with handling social media and website contents
Both analytical & pragmatic solution-oriented thinking
Team player with good ability to work independently
Able to work under stress
Fluent in English. Understanding of German or other language skills are a plus
Prepared to travel occasionally
Feeling connected to our ambition and core values


We offer:

Great possibility to help transforming the Food & Agri sector with IT solutions
Making direct impact with your own ideas and creativity in client trajectories
Opportunity to be part of a young, innovative company
Room for personal development, creativity and initiative
International work environment
Compensation package in line with our company values


If you are interested in this position, please send your letter of motivation and CV to Anne Bandel.
Bewerbungsschluss:

15.12.2018
Anbieter:

Soil & More Impacts
Buttstr. 3
22767 Hamburg
Deutschland
Ansprechpartner/in:

Anne Bandel
E-Mail:
(Ursprünglich) veröffentlicht am:

14.11.2018