Senior International Agriculture Consultant
Soil & More Impacts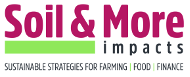 Beschreibung:

Soil & More Impacts BV (SMI) is a specialized advisory firm that develops sustainable strategies for Food, Farming & Finance clients globally. We work from offices in Amsterdam (NL) in Hamburg (DE).

You will work in a team of dedicated professionals and are leading projects on technical hands-on advisory services towards farmers worldwide. This role is a unique opportunity to help transition farming into more sustainable practices alongside a team of strategists and IT experts.
Our customers are companies, brands or organisations whose suppliers need practical solutions for natural soil fertility management or other methods of farming that enhance sustainability. You will help to assess, improve and communicate their sustainability performance in a holistic and pragmatic way.

Your office base is Hamburg with frequent international travel. You will be in contact with all types of agri & food sector related businesses, from smallholder farmers to global processors.

Key activities

As senior Agriculture consultant, your key activities will be:


Leading and administrative responsibility for selected projects


Developing, implementing and building capacity in workshops around e.g. (natural) fertilization programs, nutrient cycle analysis, as well as general sustainable soil fertility & agricultural practices, soil carbon and agroforestry related emission reduction projects
Modelling and analysing economic feasibility of sustainable farming practices, assessing and modelling impacts and dependencies




Development of client relationships


Defining the direction of projects in cooperation with clients
Developing, writing and/or customizing project applications and commercial proposals, anticipating clients' future needs




Development of SMI as a company


Infusing colleagues (Strategy and App services) with your practical and up-to-date technical knowledge and enhancing knowledge transfer within the Technical team

Required skills/experience

Both practical and academic background in farming; in-depth knowledge about main crop requirements and general farm management
7+ years of hands-on experience in the agricultural advisory services, pref. in the global south
Solid track record in one or several topics like organic or regenerative farming, agroecology, sustainable farm practices, soil, fertilization/nutrient management
Skilled trainer/communicator with ability to conveying a message to culturally diverse target groups
Intercultural awareness with ability to take lead and act upon unexpected situations
Analytical & pragmatic/solution-oriented with strong managerial/coordination skills
Team player with strong ability to work independently
Fluent in English & Spanish. Ability to do assignments in other languages is a must
Prepared to travel globally and out of "comfort zones"


We offer:

Great possibility to perform an impactful job in the Food & Agri sector
Opportunity to be part of a young, innovative company
Direct exposure to clients at all levels, engaging in positive impact projects
Room for strong personal development, learning, creativity and initiative
International work environment
Compensation package in line with our company profile


If you are interested in this position, please send your letter of motivation and CV to Tobias Bandel (tobias.bandel@soilandmore.com).
Bewerbungsschluss:

27.01.2019
Anbieter:

Soil & More Impacts
Buttstr. 3
22767 Hamburg
Deutschland
Ansprechpartner/in:

Tobias Bandel
E-Mail:
(Ursprünglich) veröffentlicht am:

14.12.2018