Internship for Paris-aligned investing criteria with focus on the land use sector (R-IN2001)
NewClimate Institute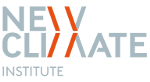 Beschreibung:

Period: Minimum 3 months for internship or 6 months for Master thesis placement
Starting as of February 2020.
Full time – 40 hours per week.
Location: Berlin, Germany
Deadline: As soon as possible. Position will be closed when suitable candidate is found.

NewClimate Institute
NewClimate Institute (www.newclimate.org) is a think tank which started operations in November 2014. We are a team of researchers and policy advisors with long experience in supporting the international climate negotiations and associated national and international processes. Through our policy-oriented research and capacity building we help international organisations, national governments, NGOs and other actors to find and implement solutions to the global climate change challenge.
Flagship projects include the Climate Action Tracker and the German government-funded Ambition to Action. Our recent works have been published in Nature, Climate Policy and Environmental Research Letters, and featured in various media outlets including the Economist and Washington Post.

The internship/ master thesis
NewClimate Institute regularly works with motivated Master's degree students, interested in a career in energy/ climate policy, who may join the NewClimate Institute team for an internship of 3 months' minimum duration, and/ or for a Master thesis placement with a 6-month duration. Students who intend to write a master thesis are encouraged to initially join us as interns. For this position, we are seeking a candidate to support our research related to Paris-aligned investing criteria, with focus on the land use sector.
Possible tasks may include:

Literature review and data collection on Paris-compatible pathways of the land use sector (and its subsectors).
Review of tools and methods already used by different actors, including multilateral and bilateral development banks.
Support the development of investing criteria in the land use sector.
General project support (ad-hoc research on different sectors/topics, contributions to reports, presentations etc.)

The internship/master thesis will be remunerated. Actual conditions depend on qualification of the candidate.
Anforderungen:

Candidate profile
The preferred candidate is a highly motivated Master's degree student with a high degree of responsibility and an independent working style, and a deep interest in the field of climate policy, land use, and sustainable finance flows.
Essential requirements:

Enrolment in a Master's degree (or equivalent) in a relevant field of study with a focus on the land use sector (near-completion) for the duration of the internship/ master thesis.
Interest in applying their land use sector knowledge to the finance sector, particularly to international finance institutions. Pre-existing knowledge on these is advantageous.
Interest and competence in data analysis quantitative and qualitative analysis related to the impact of land use on emissions.
Good knowledge of Microsoft Excel, Word and Powerpoint.
Languages: Proficient English skills in both speaking and writing, other languages (e.g. German, French, Spanish) are an advantage.
Eligibility for internships in Germany.


Application procedure
If you are interested in an internship or Master's thesis position, as described above, please send us your CV including a short cover letter to recruitment@newclimate.org addressed to Eva Arnold. Please include the code "R-IN2001" in the subject line of your email.
Einsatzort:

10119 Berlin
Deutschland
Anbieter:

NewClimate Institute
Clever Straße 13-15
50668 Köln
Deutschland
Ansprechpartner/in:

Eva Arnold
E-Mail:
Sonstiges:

R-IN2001
(Ursprünglich) veröffentlicht am:

07.01.2020